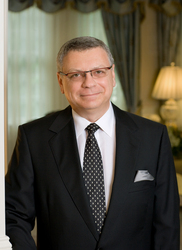 48-Year-Old Brand Continues to Strengthen Internal Growth Systems; Hires NEFA Member Anthony Padulo to Lead Charge
Horsham, PA (PRWEB) September 1, 2010
While the current economic climate may have slowed many brands' innovation and growth, AAMCO, a franchise operation with nearly 900 automotive centers in the United States, Canada and Puerto Rico, is continuing to march forward by strengthening the brand's executive team. This iconic brand has reinvented itself with the addition of total car care, and thanks to its strong brand, is quickly becoming a major player in the total car care area, seeing double digits growth annually in the segment. The newest member to the team is Anthony "Tony" Padulo, who will serve as AAMCO's Vice President of Franchise Sales and Development to spearhead the brand's growth on a national level.
"Tony brings to AAMCO a wealth of experience, plus the vision and strategic ability to lead our franchise development department into 2011 and beyond," said Marc Graham, CEO. "We are thrilled to have Tony on board with us, and look forward to seeing how he applies his industry experience and proven results to our focused growth strategies."
While remaining a leader in its segment, AAMCO has continued its system wide growth, with the opening of 32 new locations in 2009. Given our robust business model, coupled with strong operating and training support, we are poised to accelerate our 5 year development plan, as we plan to double our current growth rate by the end of 2011. As a crucial part of the team, Padulo, who holds a Certified Franchise Executive (CFE) accreditation from the International Franchise Association, will lead AAMCO's franchise development while bringing over 30 years of franchise, real estate, and automotive experience from several years with ARCO Oil, where he served as its Director of Franchise Development. During his tenure, he was responsible for developing a comprehensive franchise revitalization strategy and platform for the ARCO/ampm gas station/convenience store offering.
Prior to joining ARCO, Padulo spent 22 years working with Dunkin' Brands, Inc., parent of Dunkin' Donuts, and Baskin-Robbins. For nearly a decade, Padulo served as Vice President of New Business Development, International, where he responsible for launching the brands in over 30 new countries. He spent his final three years at the company as Vice President of New Business Development and Franchise Services, guiding franchising activities for the brands as well as overseeing development of non-traditional units inside chains. Padulo was also Senior VP of Franchise Development for Papa Gino's Inc, holding company for both Papa Gino's Pizzas, and D'Angelo Grilled Sandwiches, and most recently worked with RE/MAX of New England, where he developed the industry's first nontraditional development program with third party retailers.
"As a brand with a historically established household name, I sincerely look forward to leading AAMCO's franchise and real estate development by initiating innovative franchise development strategies to the already established model. My main priority is to increase franchising activity through a focused growth strategy, while concurrently streamlining AAMCO's center opening lead times." Padulo said.
AAMCO has been the recognized leader in the transmission business for over forty years and in the past three years has expanded its services into the $200 billion general automotive repair aftermarket. With brand recognition in excess of 90 percent, almost 900 locations nationwide and the most highly skilled technicians in the industry, AAMCO is well positioned to become the market leader in brakes, tune-ups, air conditioning and other aftermarket services.
About AAMCO
AAMCO is the world's largest chain of transmission specialists and one of the leaders in total car care services. The AAMCO brand has approximately 900 automotive centers throughout the United States, Canada and Puerto Rico. Established in 1962, AAMCO is proud to have served more than 35 million drivers. Today, under the leadership of CEO and President Marc Graham, American Driveline Systems Inc., the parent company of AAMCO and Cottman Transmissions Systems, LLC, AAMCO has laid out a comprehensive strategy focused on strengthening current franchisee profitability and complemented by a growth plan through the next five years, which includes strengthening its brand footprint in existing markets and venturing into untapped territories through franchise development. For more information, visit www.aamco.com.